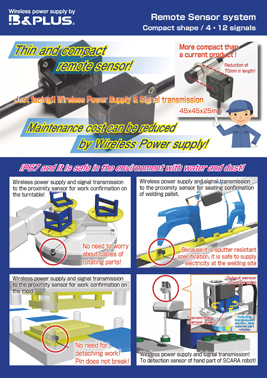 Compact form with 4 or 12 transmission signals
The compact size makes it ideal for attachment in small spaces and for robot hands.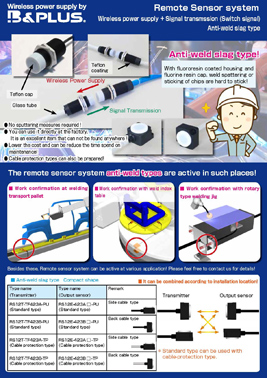 Remote sensor with sputter-resistant specifications
The sputter-resistant model is ideal for welding lines. Cable protection models are also available.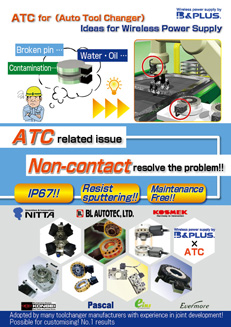 Remote system for auto tool changers
Suggestions for wirelessly powering automatic tool changers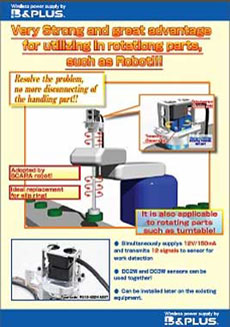 SCARA robot compatible
Perfect for SCARA robots. Easy to attach.
Remote sensor system with signal transmission
Our signal transmission lineup includes various specifications and shapes.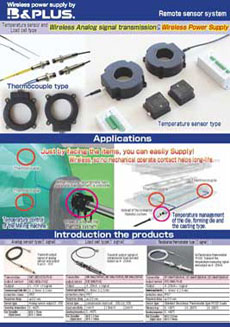 Analog signal transmission and wireless power supply
Capable of transmitting analog sensor, load cell, resistance thermometer or thermocouple signals.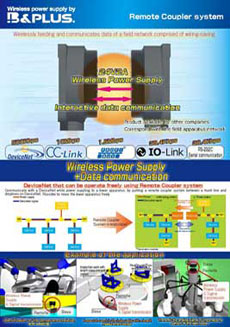 Remote coupler system for field network data communication.
The communication data of a field network like DeviceNet, CC-Link, Profibus or IO-Link can be transmitted.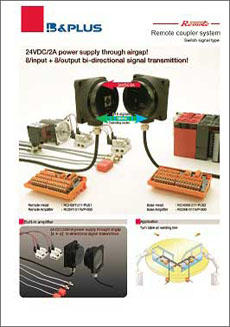 8 input/8 output bidirectional signal transmission and wireless power transfer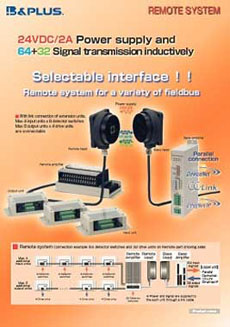 64 input/32 output bidirectional signal transmission and wireless power transfer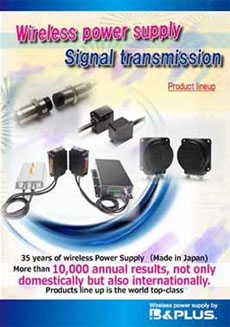 Remote sensor system lineup catalog
Full lineup of wireless power supplies and signal transmission systems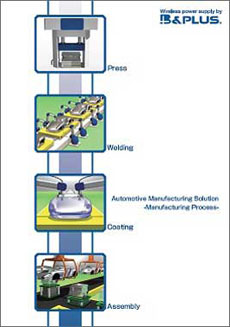 Automotive industry solutions
Suggestions for automobile production improvements by process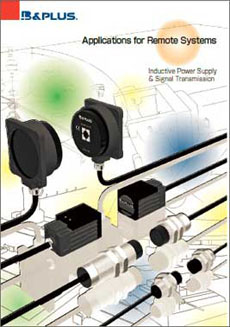 Applications
Examples of successful installations by industry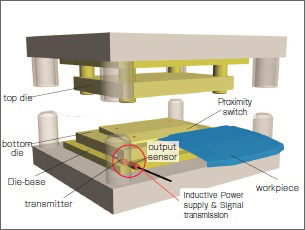 Presses: die workpiece identification
Improving workpiece identification for dies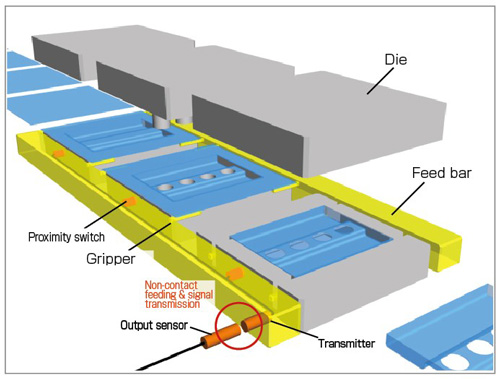 Assembly line improvements
NEW!
The assembly line: Feed bar changeover and workpiece confirmation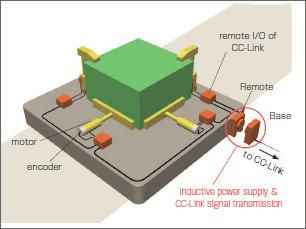 Assembly line improvements
The assembly line: Confirm robot hand and pallet seating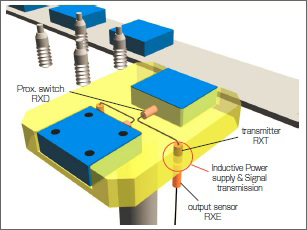 Examples of turntable applications
Examples of turntable applications on the assembly line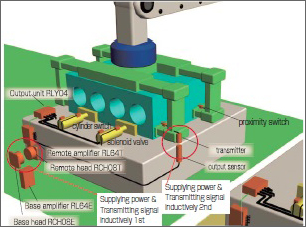 Welding line improvements
Examples of applications on the welding line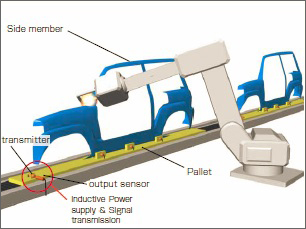 Welding line improvements
Confirm workpiece seating on moving pallets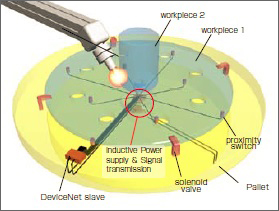 Welding line improvements
Confirm workpiece seating on turntables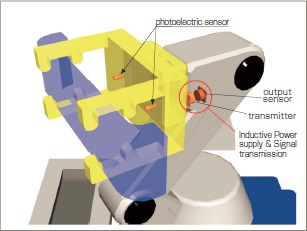 Confirm workpieces in robot hands
Confirm workpiece pickup and release by robot hands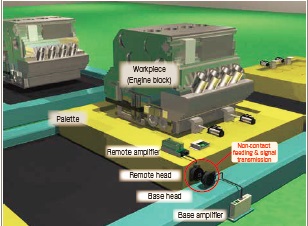 Moving pallet clamping confirmation
Confirm when an engine block is seated and clamped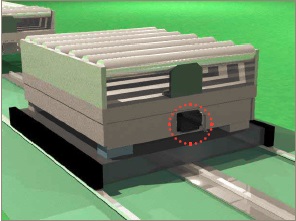 Moving objects: Supply power to traversers
Examples of applications for traversers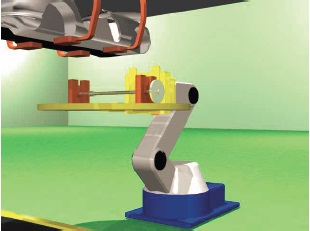 Assembly line: Workpiece confirmation
Assembly line: Confirm workpieces on jigs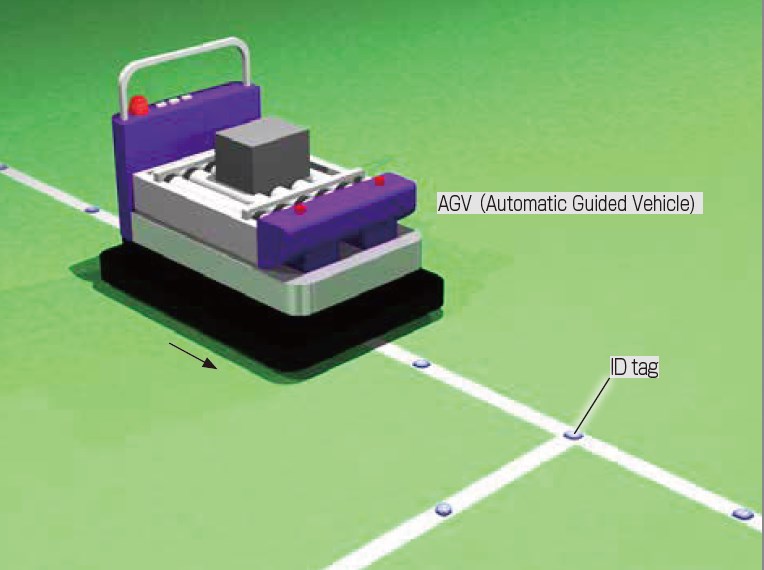 Identification: Travel addresses for automated guided vehicles
Address instructions for automated guided vehicles while traveling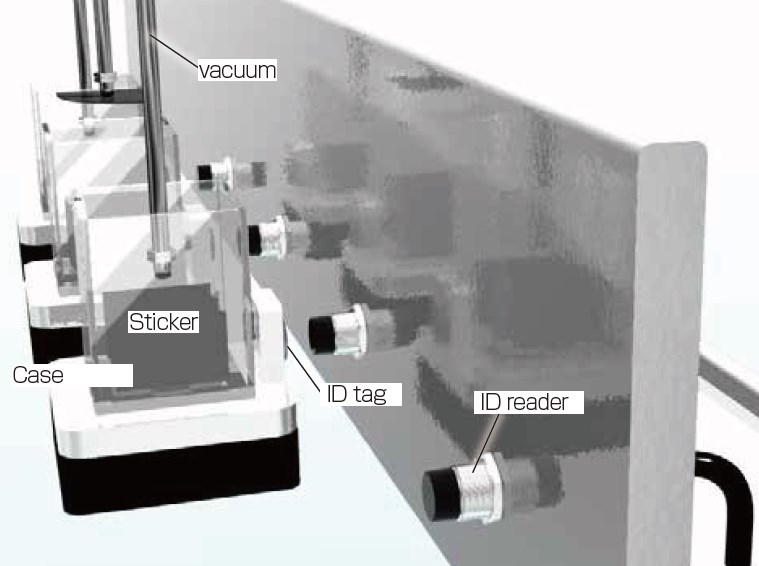 Identification: Pallets
Pallet identification